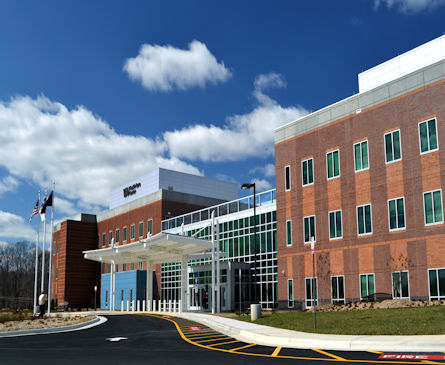 VA Medical Center - Kernersville, NC
VA Kernersville provides healthcare access to veterans in the Triad area of North Carolina: Winston-Salem, Greensboro, and High Point. The new healthcare center will offer outpatient primary care and specialty services for an estimated 34,000 veterans enrolled in the VA healthcare system.
Project Goals​
​A complete structured cabling system was to be installed per the specs and plans for the new VA Medical Center located in Kernersville, NC.
Services Provided
MTS Services provided a Category 6 copper solution and single-mode OS2 and multi-mode OM3 fiber optic cabling. The backbone cabling included intra-building fiber optic cable routing from the main communication room to each of the telecommunications rooms. The facilities communication systems included pathways, cable tray, sleeves, backbone cabling, public address/mass notification systems, and Code Blue nurse call systems.
MTS Services built out the telecommunication spaces within the facility to include equipment racks, cable runway, vertical/horizontal management, and rack-mounted power strips. We also provided audio visual equipment for 14 projector rooms, including NEC projectors, Chief mounts, and Draper projector screens and brackets.
Solution Benefits
The VA Kernersville facility has structured cabling connections throughout the hospital for computers, phones, wireless AP devices, and medical equipment, creating state-of-the-art connectivity.