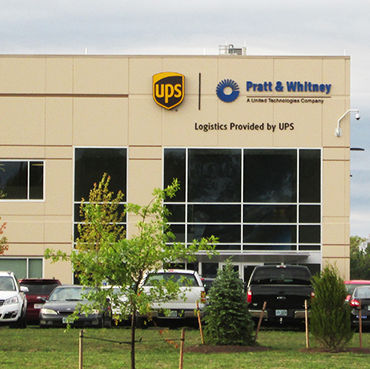 UPS
United Parcel Service (UPS), headquartered in Sandy Springs, Georgia, is the world's largest package delivery company and a provider of supply chain management solutions. UPS delivers more than 15 million packages a day to more than 6.1 million customers in more than 220 countries and territories around the world.
Project Goals
The UPS Northeast Logistics Center is a 614,000-square-foot, high-bay distribution center for United Parcel Service Supply Chain Solutions and jet engine manufacturer Pratt & Whitney and is located adjacent to the Manchester-Boston Regional Airport in Londonderry, NH. The building's approximately 28,000 feet of office space was outfitted with the latest audio visual and communications cabling systems.
Services Provided​
MTS Services installed a turnkey audio visual system for the first and second floors of this facility, as well as the Logistics Room. The first floor conference room has a wall-mounted 70" display and HDMI connectivity at the table for a laptop connection. The second floor conference room has a wall-mounted 90" display, video conferencing, and HDMI/VGA connectivity at the table for a laptop connection. Ceiling-mounted speakers are used for audio reinforcement in the room. All AV aspects of the rooms are controlled by a 7" table-top Crestron touch panel. The Logistics Room has five wall-mounted displays connected to five owner-supplied PCs via HDMI.
The data and voice infrastructure and cabling system installation coincided with the ongoing construction of this industrial/warehouse building. The main building has two 2-story complexes within it, a sorting area, and a large steel warehouse area on the main floor. The solution included Siemon Category 6 connectivity with CommScope UltraMedia Category 6E cabling and a Corning Optical Communications fiber optic system. MTS Services built out the telecommunication spaces within the facility to include cabinets, equipment racks, cable runway, and vertical/horizontal management.
Solution Benefits
Despite the aggressive schedule, the 14-acre building was designed, permitted, and up and running in less than a year. The entire project came in on schedule and on budget.