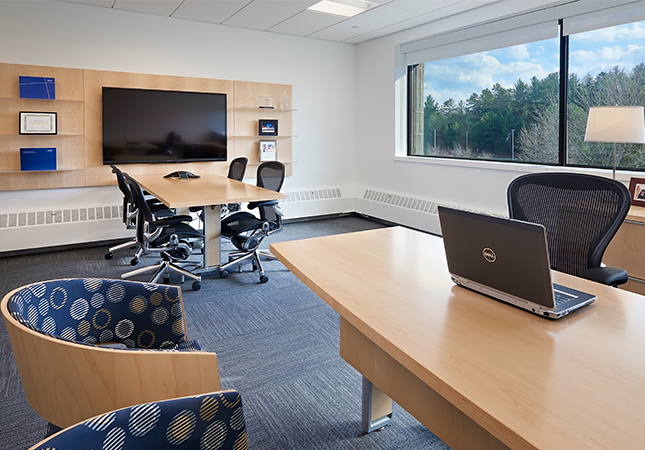 Atrium Medical
Atrium Medical Corporation is a diversified healthcare provider where improved patient outcomes is "job one" for every member of the firm. Workmanship in the quality products the company builds is reflected in Atrium's worldwide demand for over 2.7 million sterile medical products manufactured and distributed to over 60 countries each year. The company's commitment to ISO 13485 Quality Standards and pioneering discoveries in research, product development, and manufacturing have enabled Atrium to excel in market leadership in nearly every healthcare segment it serves.
Project Goals
To accommodate exponential growth, Atrium was relocating its headquarters from Hudson, NH, to a newly purchased site in Merrimack, NH. The property has a newly renovated 115,000-square-foot two-story structure and was expanded to include an additional 90,000 square foot state-of-the-art medical manufacturing and R&D facility. The new campus would provide the resources and space necessary for Atrium's expanding workforce and needed to be completely outfitted with structured cabling and audio visual solutions.
Services Provided
MTS Services installed a Category 6 cabling solution for voice and data and a Bogen paging system. Additionally, audio visual systems were defined and installed for conference rooms, training rooms, cafeteria, lobbies, and meeting rooms. The technology included Crestron control systems, flat-panel displays, projectors, projection screens, digital switching, and microphones, as well as audio and video conferencing to enable communication with other locations and project and flat screens for training rooms.
Solution Benefits
The easy-to-use audio visual system allows for future expansion. A single Crestron touch panel in technology-heavy rooms simplified AV controls with a single remote instead of many.